About Us
Sue Weston
Sue has been practicing and teaching mindfulness, T'ai-Chi and Qigong for many years and has PG Diploma in Mindfulness Studies from Aberdeen University and Samyé College.  Formerly a dancer, choreographer and movement teacher she has worked nationally and internationally in film, TV and theatre. Sue was awarded an honorary doctorate in 2006 for her work over several years in Sri Lanka supporting humanitarian causes. In 1999/2000 she spent a year in retreat on Holy Isle to deepen her meditation practice. Sue is the initiator of Relaxing The Mind activities that offers T'ai-Chi, Qigong and mindfulness courses, classes, workshops and retreats. This provision ranges between delivering mindfulness courses at her home, Mill House Farm, in schools, (.b mindfulness in schools), hospitals, prisons, the workplace and for groups in Pontypool and Monmouth. Each year Sue facilitates the annual Qigong & Meditation Retreat on Holy Isle, Scotland. Sue continues to attend retreats and teachings that help to deepen her own practice as well as widen her understanding of the complexities of being human
Sharon Leighton
Sharon Leighton PhD (Neuropharmacology), a highly experienced and respected trainer and consultant, has many years of experience working in both global and national leadership roles in medical information. She was a course leader for PIPA (Pharmaceutical Information and Pharmacovigilance Association) and module leader for Professional and Managerial Skills module of the M.Sc. Pharmaceutical Information Management at City University. Prolific speaker, blogger, writer, facilitator, consultant and mindfulness practitioner she predominantly trains teams in-house
helping managers achieve their goals through project management, business coaching and skills training. Sharon is currently taking a break from her consultancy and focusing on deepening her own mindfulness practice.
For more information on Sharon, see www.sharonleighton.co.uk or her linkedin profile
Lisa Smith
Lisa trained as a nurse and worked in this capacity in the army. Lisa assists Sue on the Mindfulness Training Courses having participated on a course in 2011. She is a regular Qigong practitioner.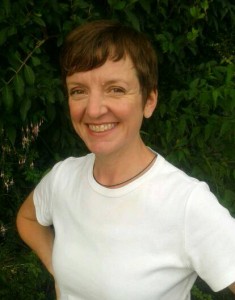 Jenny White
Jenny is a Shiatsu practitioner based in Edinburgh. Prior to moving to Edinburgh, she lived as a full time volunteer on Holy Isle for four years.  This is where she was living when she completed her training (Glasgow School of Shiatsu).  She says she was lucky enough to come into contact with teachers like Sue Weston,  and  began to offer treatments to guestswho came to the island seeking retreat, relaxation, and exploration of themselves and their body/mind.  She has also trained with Rob Nairn and the Mindfulness Association,  and has a Post Graduate Certificate in Emotional Education (Derby University/Atlow Mill Centre for Emotional Education). She can be contacted here.