Four Immeasurables Retreat Weekend
Kindness, Compassion, Joy, and Equanimity
This weekend of retreat is for us to delve  deeper, gain insight and inspiration.
Friday 3 July 7pm – 9pm, Saturday 4 July 10am – 5pm and Sunday 5 July 9am – 3pm.
Residential or Non-residential
The retreat is open to all who have attended the previous Four Immeasurables courses, a mindfulness course, and who have their own established meditation practice and wish to refresh and invigorate it in convivial company. During the weekend we will explore the five mind poisons of anger, desire, ignorance, envy and pride, and introduce meditation practices that help to lessen these tendencies.
Our weekend together will enable us to deepen our insight and understanding of the Immeasurable qualities along with  the five mind poisons and how they influence our daily lives. It will also include mindful movement and relaxation practices, and time to explore the wonderful countryside around Mill House Farm.
They are called 'immeasurable', because if you practice them, they will grow in you every day until they embrace the whole world. You will become happier, and everyone around you will become happier too.
Thich Nhat Hanh, Teachings on Love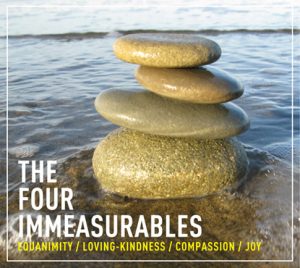 The insight and practices that enable the embodiment of The Four Immeasurables has been preserved through the lineages of Buddhist philosophy. These qualities are universally relevant to all of any faith or none – all are welcome to participate.
'Thank you both so much for all that you have done to make the 4 Immeasurables such a life enhancing experience. (It) was a real life saver for me. It has truly been a wonderful gift.'
Friday 3 July 7pm – 9pm, Saturday 4 July 10am – 5pm, and  Sunday 5 July 9am – 3pm
Course fee: £150, includes course notes, sound files and refreshments.
Held at Mill House Farm.
We have limited B&B accommodation here at Mill House Farm for those coming from afar, there are other nearby B&Bs available, please ask for a list.
Contact Sue for Registration