The Four Immeasurables
Unfolding our innate and universal qualities of Loving kindness, Compassion, Joy, and Equanimity
Two weekends in September, 8 -10, and November, 10 -12, that can be attended residentially or non-residentially
Our lives are so often ruled by a constant need to be busy, to get things done – you know the score. We end up chasing our tails and losing sight of the essence and purpose of our lives. Participating on an 8 week mindfulness training course is the beginning of getting off the hamster-wheel of habitual action and reaction and this initial training can lead to a wish to deepen our insight into what makes us human. The Four Immeasurables short course offers a heart-based foundation of support to ease us through the ups and downs of being alive.  Although we are all aware of these universal qualities so often we lack the means to embody them. Through the understanding and practice of these four qualities we can begin to open our hearts to our own and others unlimited capacity for loving kindness, compassion, joy and equanimity.
They are called 'immeasurable', because if you practice them, they will grow in you every day until they embrace the whole world. You will become happier, and everyone around you will become happier too.
Thich Nhat Hanh, Teachings on Love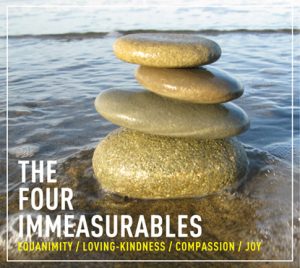 The course is scheduled over two weekends in September and November and is for those who have participated on an 8-week mindfulness based living course or have their own established meditation practice. The insight and practices that enable the embodiment of The Four Immeasurables has been preserved through the lineages of Buddhist philosophy. These qualities are universally relevant to all of any faith or none – all are welcome to participate.
'Thank you both so much for all that you have done to make the 4 Immeasurables such a life enhancing experience. (It) was a real life saver for me. It has truly been a wonderful gift.'
Fridays 7pm – 9pm, Saturdays 10am – 5pm, Sundays 9am – 3pm.
Friday 8 – Sunday 10 September
Friday 10 – Sunday 12 November
Course fee: £250, includes course notes and sound files, refreshments and light lunches.
Held at Mill House Farm.
We have limited B&B accommodation here for those coming from afar with other nearby B&Bs available, please ask for a list.
Contact Sue for Registration