Film: Akong – A Remarkable Life
Showing on Helen's cinema screen, Mitchel Troy, Monmouth
on Friday 2nd February: 7.00pm.
Suggested donation: £10
Proceeds for charity: The Akong Memorial Foundation
Reservations essential, please contact Sue here for Helen's address and other details.
Watch the trailer
This film is above all else a film about compassion. Over four years since Akong Rinpoche's senseless murder in October 2013 in Chengdu, China, his message of compassion-in-action needs to be heard more and more. Akong Rinpoche was my first meditation teacher and his wisdom and compassion has been a beacon in my life ever since.
This is the first ever documentary film about the inspirational life of Chöje Akong Tulku Rinpoche. Through his powerful message of loving-kindness and compassion and his humanitarian work around the world, Akong Rinpoche has benefitted the lives of countless people. This film aims to make his inspirational life story available to future generations.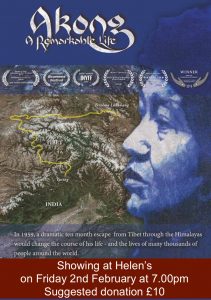 Akong Tulku Rinpoche, born in Kham in Eastern Tibet in 1941, was quickly recognized as a reincarnate Tulku and enthroned as the Abbot of Drolma Lhakhang Monastery at the age of four. In 1959, tensions between China and Tibet reached breaking point and Akong was forced to undertake a dangerous journey across the Himalayas on foot to India aged nineteen.
From the party of over two hundred Tibetans that set off, only fifteen survived the gruelling ten-month ordeal. When they reached their destination, living conditions in Buxadaur refugee camp in Assam were extremely poor. The hot climate combined with the lack of food and medicine claimed the lives of many of the surviving refugees, including Akong's elder brother, Jamyang Chogyal.
In 1963, Akong arrived in the UK with Chogyam Trungpa Rinpoche. In order to support themselves, Akong initially worked as an orderly at a hospital in Oxford. In 1967, he founded the first Tibetan Buddhist monastery in the West – Kagyu Samye Ling in Scotland.
Samye Ling has become an international centre for authentic Tibetan Buddhist teachings, renowned for bringing great contemporary Buddhist masters such as HH the 16th Karmapa, Dilgo Khyentse Rinpoche, Kalu Rinpoche, Tai Situ, Ringu Tulku amongst others.
Akong Tulku Rinpoche continued to personally supervise his countless projects, right up until death at 73 years of age. His projects reach out to thousands of people in need through his charity ROKPA International, which invests nearly 100% of donations directly into humanitarian projects in Tibet, Nepal, India and Africa.
We invite you to become involved in the project by helping us to preserve this important story for generations to come.